Private Lessons with John C
Guitar (ages 7+), Drums (ages 5+), Bass (ages 7+)
John C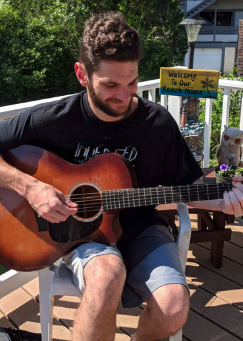 Hey there! My name is John. I was born in Worcester, Massachusetts. Growing up, I wanted to be like my father, who could seamlessly play "Rush" songs. I started playing the drums at the age of 9, and my love for music only grew stronger from there. I would sit in my room listening to the radio and recording my favorite songs to practice on a cassette tape. My musical interests include everything from funk and soul to hard rock and metal.
I moved to Pennsylvania in 2004. I started to learn bass and guitar and would switch off depending on what my bands needed me to do. As music software and digital audio workstations progressed, I liked producing hip hop beats and recording guitar and bass over them and now go under the moniker "Johnny No One" on all major streaming platforms. I've played all around the Lehigh Valley and New York to support artists and playing with my cover band "Every Other Sunday."
I have many years of experience working with children and those with special needs and consider it one of my specialties. I value patience, kindness, and steady growth through the development of the fundamentals, all while trying to make sure it's fun. I firmly believe that music is the best form of communication and meant to transcend language itself and bring people together. I'll do everything I can to teach others how to communicate in this way.
Month to month
Monday at Trexlertown
Month to month
Tuesday at Trexlertown
Month to month
Wednesday at Bethlehem