Private Lessons with Grant C
Guitar (ages 5+), Trumpet (ages 8+), Ukulele (ages 5+), Bass (ages 7+)
Grant C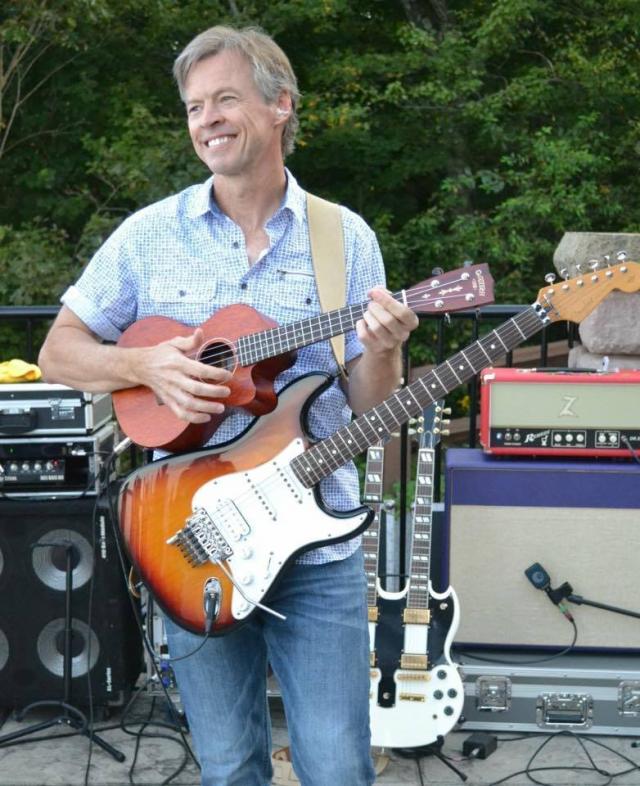 Grant began his musical journey at an early age, completing three years of classical guitar study by age 10. He then discovered electric guitar and 70's rock music and another musical chapter opened up to him as he approached his teenage years. Since then he has founded or performed in numerous bands, while simultaneously pursuing and advancing his nylon string classical guitar skills. He can currently be seen performing with one of the Lehigh Valley's top bands, Band of Brothers, at numerous locations throughout the Valley, as well as performing for wedding ceremonies and reception cocktail hours on his nylon string guitar.

Grant's passion for helping other people and his easy-going personality make him popular with young beginning students, older, or more advanced students, or any combination in between. He feels that building a rapport with each student is an important part of their advancement, as music is a personal journey and the student must feel comfortable in the learning environment. Grant strongly feels that patience and understanding is key to engendering a student's love of music and enhancing their learning abilities and believes that pressure should not be a part of the lesson experience. After all, it's the student's time to explore a new avenue of life, one that will hopefully lead to many years of profound enjoyment.

His ability to break down the language of music into understandable concepts, using bite-sized pieces that make sense, allows students to build their knowledge of this new, exciting endeavor in an enjoyable way. And because he is also actively performing live music, he is able to help students with performance aspects of their playing as well, emphasizing what is needed for successful stage performances.

Although his degree is in Electrical Engineering (B.S. from Penn State), he has always simultaneously pursued his passion for music, taking several music courses in college as well. Grant's life long quest for knowledge has driven him to constantly seek out new musical challenges and he enthusiastically accepts the work it requires to hone his skills for playing it.

Grant has also played trumpet from an early age, starting lessons in the 4th grade and continuing through High School, playing in both the Marching and Concert bands, and being featured as a soloist during Marching band shows. He brings that knowledge and experience to help brass playing students achieve their goals.

He has passed on his love of music to his three sons as well, teaching and helping them with their guitar, drums, and trumpet lessons.
Month to month
Thursday at Trexlertown